Our History
Our company was founded in 1994 in Massachusetts, USA. Through mergers and acquisitions our company has grown, serves customers on four continents and is now called TactiCom.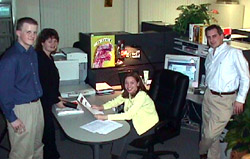 Our company was originally founded to provide internet publishing services with a focus on search engine promotion and sales lead generation. Since 1998, all of our web sites have been search engine optimized (SEO), active database driven applications. This gives TactiCom and our customer's some unique advantages.
Annette Perry, one of our founders and currently our Chief Operating Officer (COO), initially ran sales. In the nineties, Annette's typical sales presentation would start with "an introduction to the internet and the world wide web", with her laptop connected over a phone line at the clients office. Annette built our market primarily in the real-estate and the automobile industries, with some of the most prominent and successfully companies relying on TactiCom for their on-line sale and marketing. Many of these original clients are our customers today, for example Hydro-E-Lectric's E-Commerce Store, our customer since 1997. Annette's recent accomplishments include moving our accounting system to a SaaS cloud based solution. This dramatically reduced our cost and solved many problems with our geographically dispersed teams. Annette also implemented on-line billing, making us greener, expediting project startups, and receipt of payments.
In order to provide our customer's "best of class" services, required that we run multiple datacenters. Daniel McDonnell, one of our founders created both our development and hosting environments consisting of web, mail, dns, ftp, application, firewall and database servers.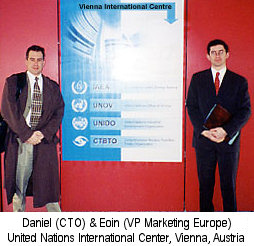 Daniel McDonnell was a Principle Computer Design Engineer for NEC Corporation and a development manager for both IBM and Digital/Compaq. He initially worked part time as a consultant creating our IT and development infrastructure. He is now our Chief Technology Officer (CTO). Daniel changed the focus of our company from web publishing to SaaS application development. He created and now manages our world class data services, development and support teams. By 2000 we were developing database driven on-line applications for the United States Federal Government and large multinationals including Compaq and Intel. Daniel global focus and passion for exemplary customer service resulted in TactiCom servicing some of world's largest and most successful organizations in Asia, Europe and North America.
Our first servers were Netscape Enterprise web servers collocated at Ultranet in Marlborough, Massachusetts in 1996. Our first international system was installed at Aton Equipment in England in 1998. By 2003 we had datacenters in four US states and in Singapore, England, Italy and Austria. We hosted and managed private and hybrid cloud services for large mission critical applications for clients such as the US Federal Government. We also remotely managed servers running our applications at many fortune 100 companies including Intel and Compaq.
Vijay Nathe the original founder of TactiCom.com, was our first programmer/developer and introduced our company to Cold Fusion. Vijay developed our first e-commerce site for msei.com, now called www.CustomNetworks.net and a TactiCom customer today. He also designed and developed the award winning Wu-Tang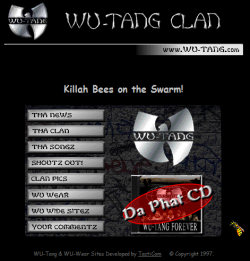 site in 1996. This was one of the first social media drive e-commerce sites, driving e-commerce sales to Wu-Wear. Vijay has extensive web and internet experience. He was Digital Equipment Corporation internet marketing manager from 1991 to 1996 and launched digital.com (for Digital Equipment Corporation now HP) in 1991.
We discovered Sean Dearnaley when searching for an authority and writer for Wu-Tang Clan. Sean developed and ran TheDSC.com a popular rap music forum. When we initially contacted Sean in 1996, we found he was a student living in Belfast, Northern Ireland. He worked for TactiCom during two of his summer breaks and when he graduated, we assisted him getting a USA working visa. Sean worked full time for TactiCom for about two years. One of his many accomplishments was being the lead developor of British Oxygen's ISO web based quality management system in 2000. This was a complex system used to automate reports (NCR & CAR) for BOC worldwide.
In the last few years we saw a dramatic improvement in the visual design capabilities of the web. This prompted us to create a design & creative services group, run by our Art & Creative Director, Barbara Dolan. Barbra has extensive experience in graphic design. Prior to joining TactiCom, Barbra worked for one of Boston's leading advertising and marketing firms and also founded her own graphics design company. We now offer a comprehensive complete multimedia solution to businesses that strive to create a strong presence on and off the web.